Oscar®-nominated filmmakers David France and Tamara Kotevska, Bill Morrison, Teoniki Rożynek and Milenia Fiedler - these are just some of the film and culture industry representatives who will be awarding prizes in competitions held at the 19th Millennium Docs Against Gravity.
This year, for the first time, we will present the Best Short Film Award, in cooperation with TikTok, and Best Film for Young Audience Award, in cooperation with the Andrzej Wajda Film Culture Centre. First Appearance Award, presented by an inter-generational jury, has a new sponsor – VISA, while Canon has become the titular sponsor of the Canon Award for Best Cinematography.
The cinema section of the festival will take place from May 13 to 22 in eight cities: Warsaw, Wrocław, Gdynia, Katowice, Poznań, Łódź, Lublin and Bydgoszcz. The online edition will last from May 24 to June 5. The festival's titular sponsor is Bank Millennium.
Main Competition Jury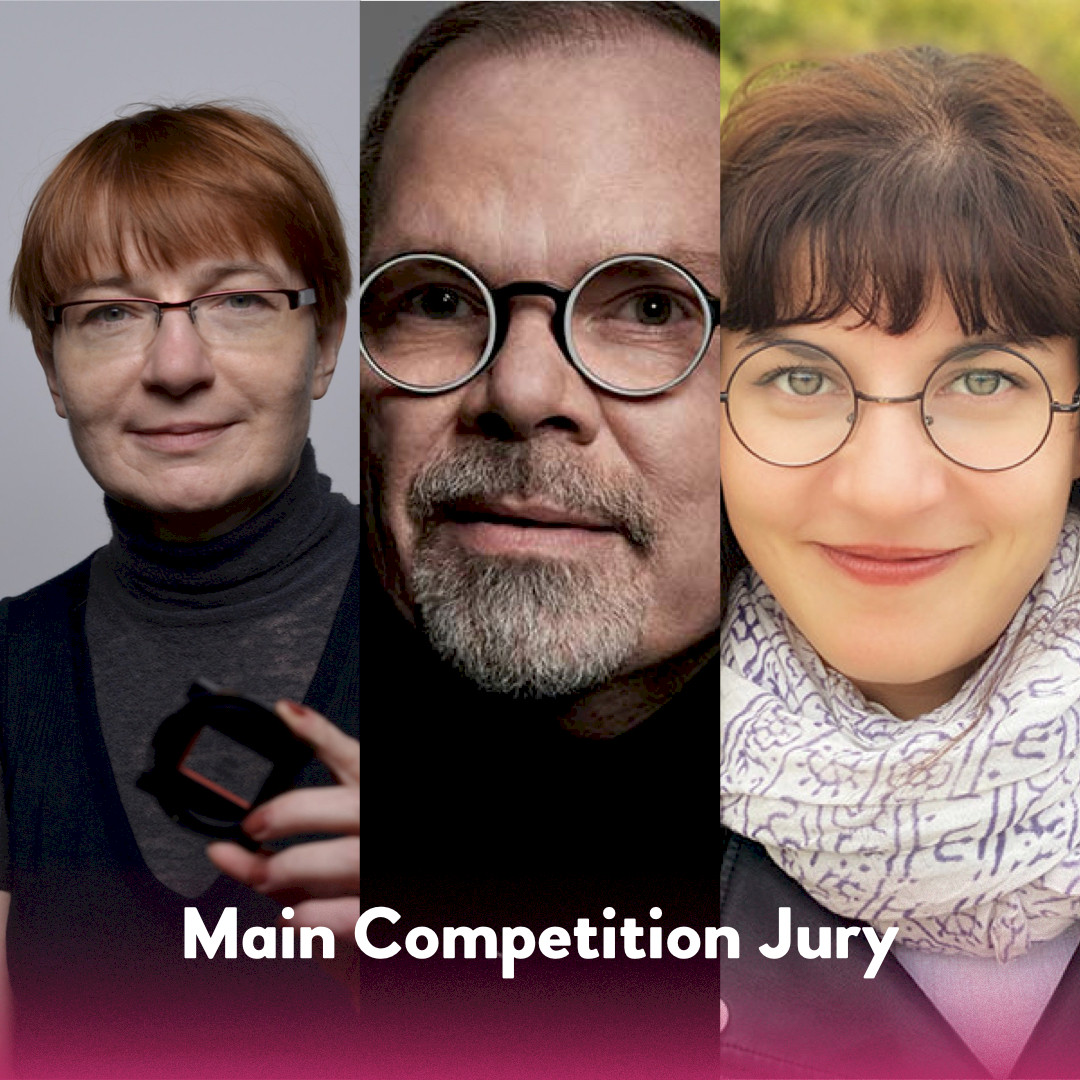 Milenia Fiedler
Film editor. She is a graduate of the Film and TV School of Academy of Performing Arts in Prague (FAMU). Co-author of numerous documentaries, feature films, TV series and TV theatre performances. She has worked with Andrzej Wajda, Mariusz Treliński, Stanisław Różewicz, Janusz Majewski, Filip Bajon, Krzysztof Zanussi, Urszula Antoniak, Krzysztof Lang, among others. She has received several awards for best editing, including "The Eagle" Polish Film Award and the awards at the Gdynia Film Festival and Two Theatres Festival. A lecturer of the Łódź Film School since 1999 and its rector for the 2020-2024 term. She is a member of the Polish Association of Editors (PSM) and the Polish and European Film Academy.
David France
Born in 1959, the American director was nominated for an Oscar® in 2013 for his debut film How to Survive a Plague, for which he received a Peabody Award and an Emmy nomination. In 2020 we screened his shocking masterpiece 'Welcome to Chechnya', which received as many as three awards with us: The Grand Prix of Lower Silesia, the Award of the President of the City of Gdynia and the Amnesty International Poland Award.
Tamara Kotevska
Born in 1993 North Macedonia, Prilep. Her 2019 documentary film, Honeyland - which she co-directed with Ljubo Stefanov - has received over 40 nominations and awards from all over the world (Polish premier at MDAG). She won the Best Balkan Film award at the Tirana International Documentary Film Festival for her graduation film Studants (49').
Polish Documentary Competition Jury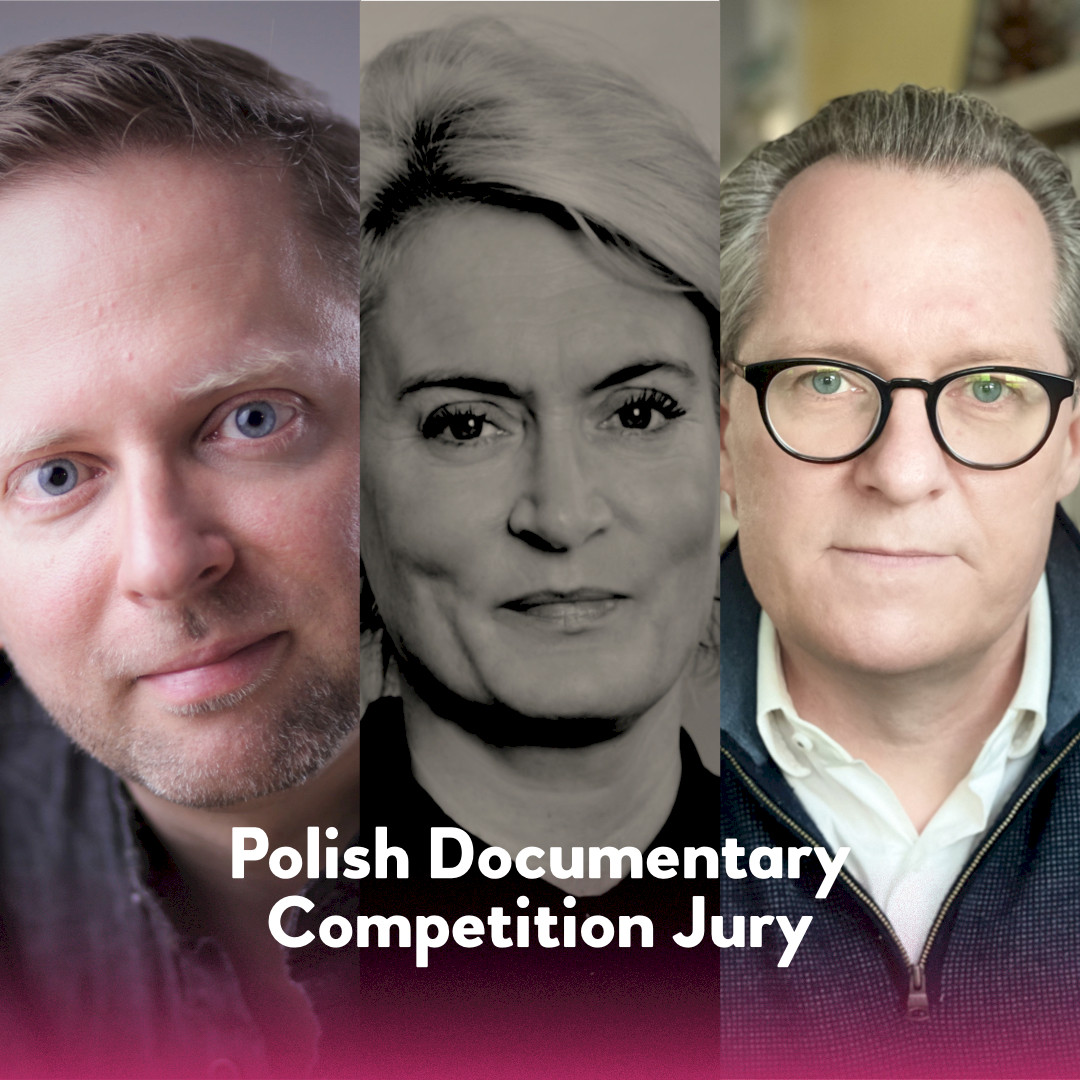 Michał Oleszczyk
He is a script consultant, story editor and film scholar based in Warsaw. He teaches film at Artes Liberales Department of University of Warsaw. He works as Story Editor with CANAL+ Poland (he oversaw the Polish version of BBC's "The Office"). He contributes to "Cineaste", RogerEbert.com and at Criterion Collection website. Between 2013-2016 worked as the Artistic Director of Poland's largest festival of Polish films, Gdynia Film Festival. He won Polish Film Institute Award and Krzysztof Mętrak Award for his film criticism.
Laura van Halsema
She holds a MA degree in American Studies from the University of Amsterdam. She has been working for IDFA since 2002 where for many years, she developed and curated focus programs on several elements of documentary film art. The focuses ranged from the purely artistic aspects of filmmaking to investigations of complex questions ranging from individualism to global politics, the role of media and democracy. As senior programmer she is part of the selection committee of the main competition, as well as responsible for the focus programs and talks program.
Thom Powers
He is the documentary programmer for the Toronto International Film Festival and host of the podcast Pure Nonfiction. He spent 12 years as the founding artistic director of New York's documentary festival DOC NYC and currently serves as its director of special projects. He's served on several festival juries in Cannes, Copenhagen, Tehran, Sao Paolo, Tel Aviv, and elsewhere.
Short Film Competition Jury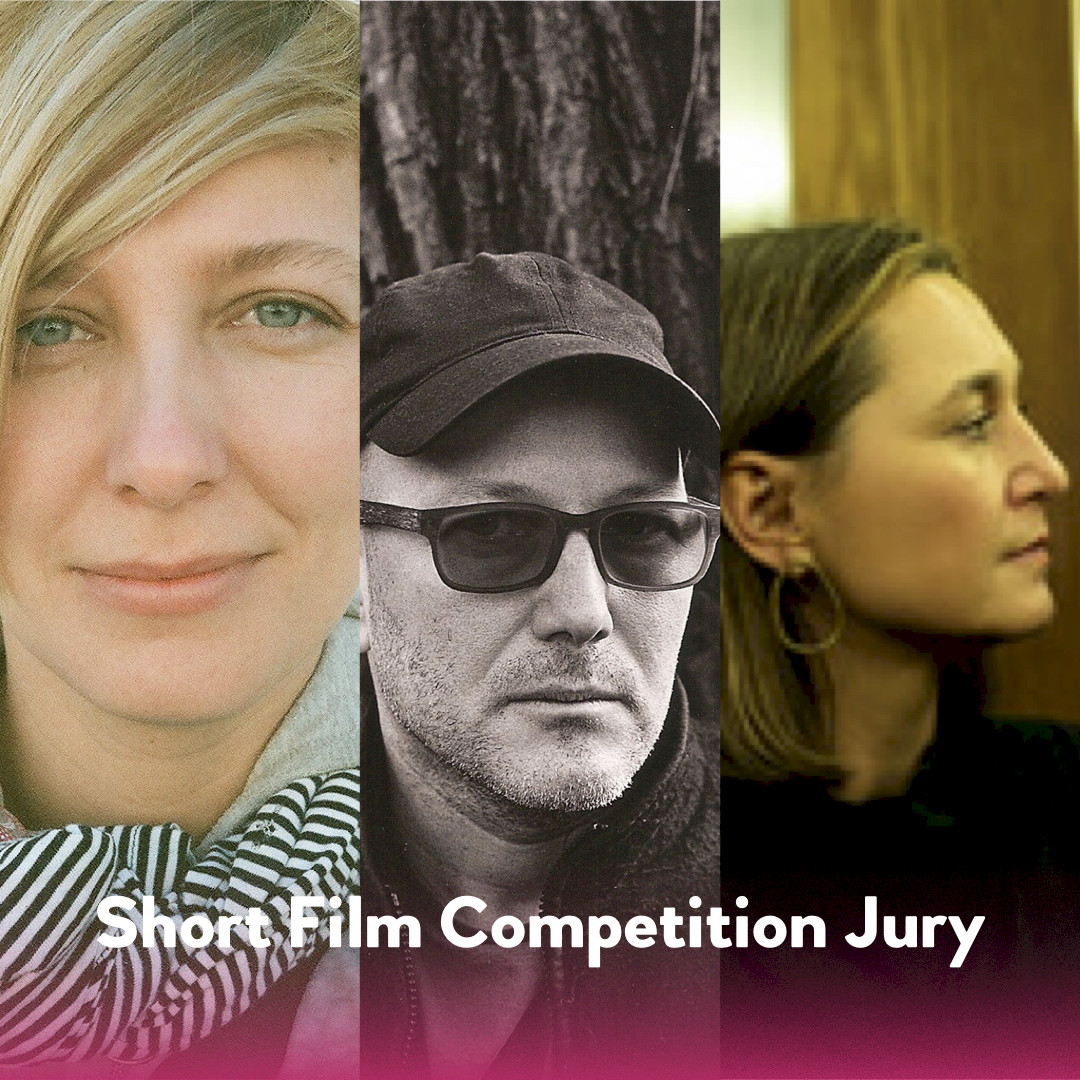 Aneta Ozorek
She is the Artistic Director of Kaboom Animation Festival, film curator, and education expert. She has extensive industry experience in the organization of film events, workshops, exhibitions, and festivals on the European market. She is a Head of Short section of CEE Animation Pitching Forum and member of the board of REX Animation Film Festival and Short Film Conference. Polish Ambassador of the European Animation Award, member of European Children Film Association (ECFA) and Dutch Academy for Film. She has illustrated seven books for children and two vinyl covers.
Bill Morrison
He makes films that reframe long-forgotten moving images. His films have premiered at the New York, Rotterdam, Sundance, and Venice film festivals. In 2014 Morrison had a mid-career retrospective at MoMA. His found footage opus DECASIA (2002) was the first film of the 21st century to be selected to the Library of Congress' National Film Registry. His work is the subject of a retrospective at 19th MDAG.
Katarzyna Klimkiewicz
Director and screenwriter. She graduated in directing from the Lodz Film School, and then she wandered around the world. She was a scholarship holder of the Binger Film Institute in Amsterdam, she made films in Berlin, Israel, Great Britain, Chile. She used to like leaving Poland, now she likes coming back. Her short film debut 'Hanoi - Warsaw' won many awards in Poland and abroad, and the European Film Academy named it Best Short Film of 2010.
Green Warsaw Award Competition Jury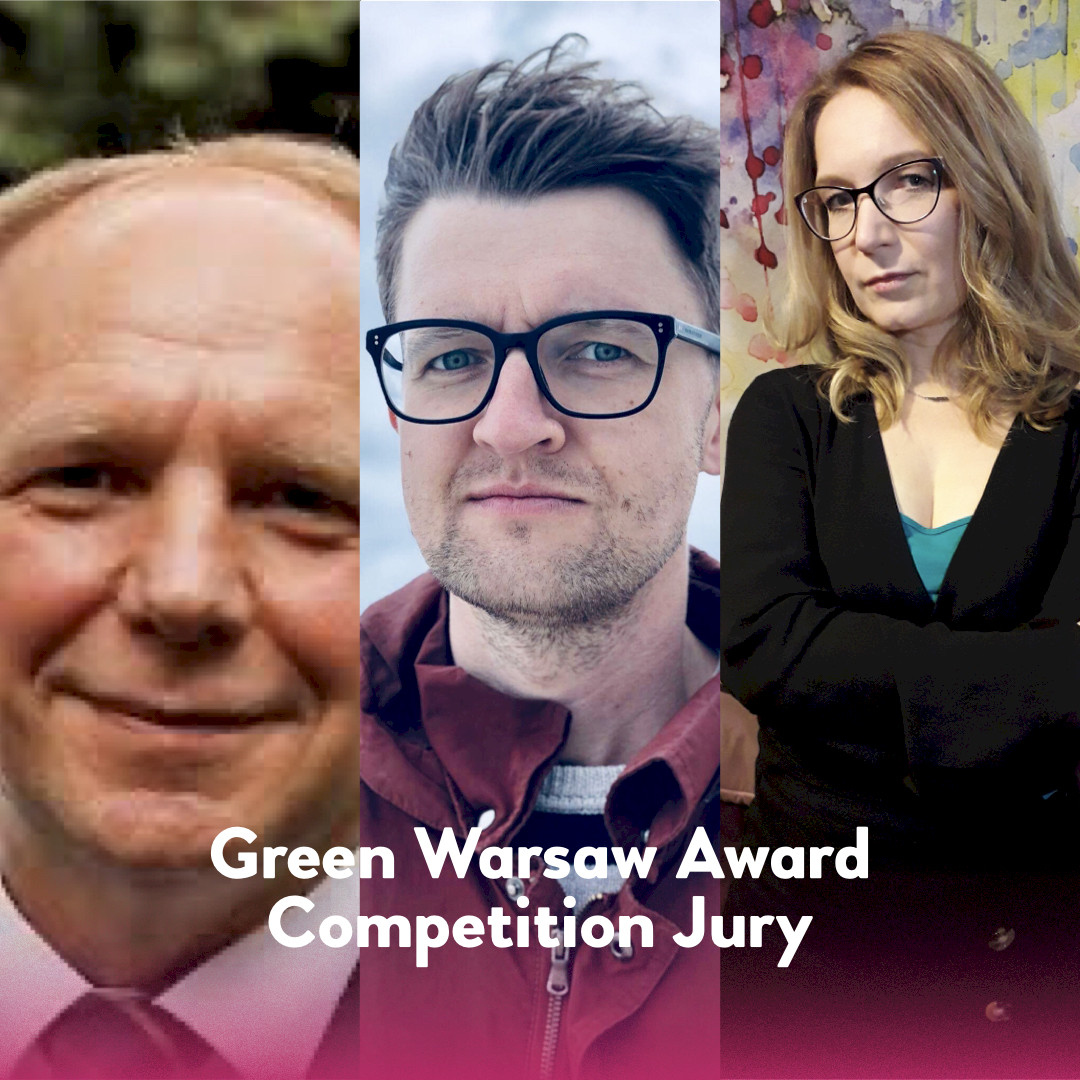 Leszek Drogosz
Deputy Director of the Infrastructure Department at the Warsaw City Office, Drogosz is in charge of maintaining and securing the supply of power, heat, gas, water, and waste treatment in Warsaw. He also handles climate protection issues. Professionally associated with the capital of Poland for the entirety of his career, Długosz had been managing and overseeing numerous municipal institutions, including public transport, water management, waste management, and heating. Drogosz is one of the initiators of the Climate Protection Group at the Warsaw City Office and serves as its Deputy Chair.
Jonathan L. Ramsey
An American documentary filmmaker from Chicago based in Warsaw for over 10 years. His previous film was It's Okay to Panic (2020), a portrait of Polish climate scientist Szymon Malinowski. The film is available for free on YouTube, where it has about 850,000 views and has generated many discussions in Poland about the urgency of the climate crisis. His most recent film Nadzieja umiera ostatnia won the Audience Award at the 2021 Krakow Green Film Festival.
Katarzyna Karpa-Świderek
An advisor to the management board for media and spokeswoman for WWF Poland. She represents the organization in the media, participates in debates with business and students, educates on topics related to climate protection and biodiversity. She graduated from Journalism and Political Science at the University of Poznań, as well as Capital Investments at WSB University in Poznań. She conducted the course "Social Innovations" at the University of Poznań. She is guided by the idea that ecology is a long-term economy.
Amnesty International Poland Competition Jury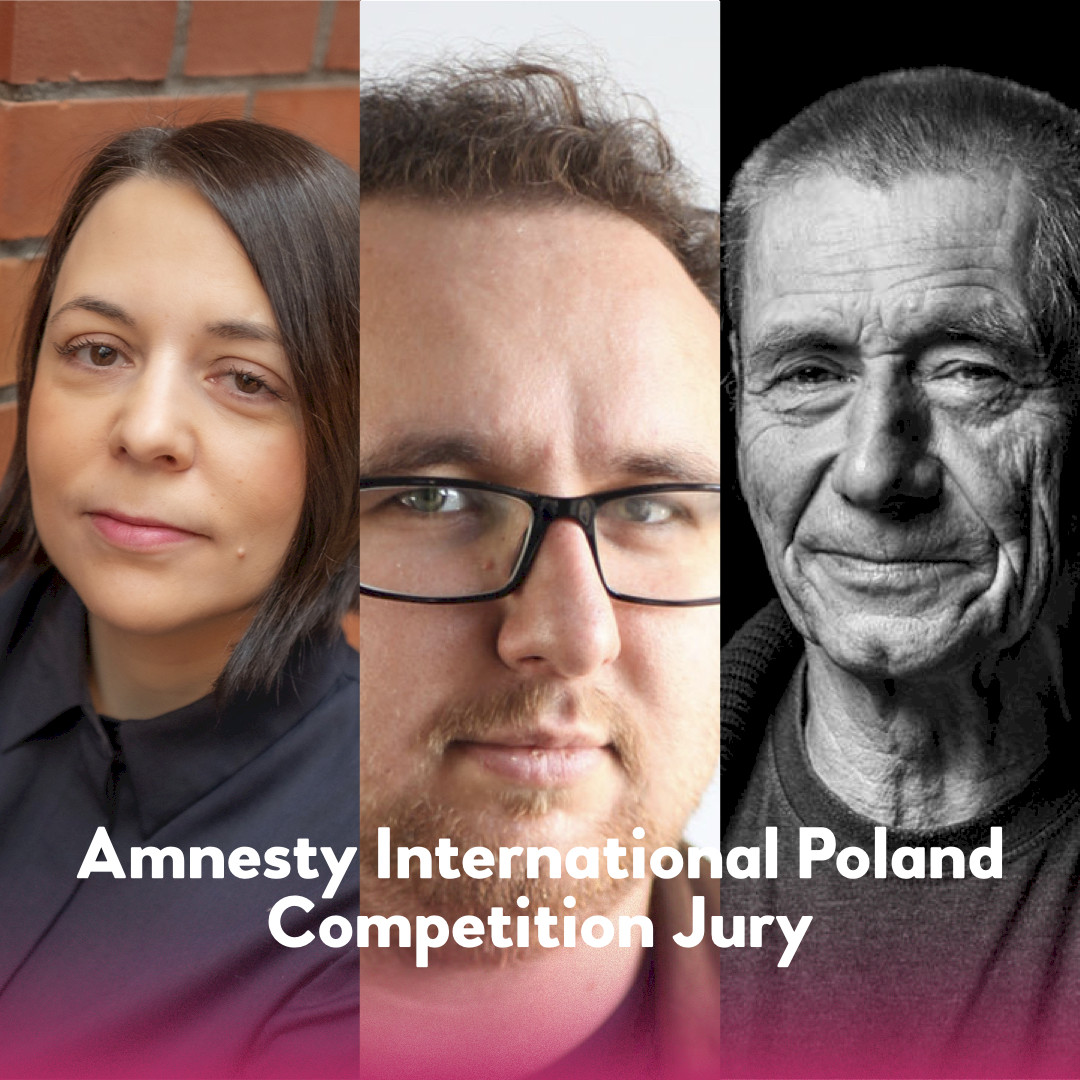 Anna Błaszczak-Banasiak
Director of Amnesty International Poland, priding on over 15 years of professional experience in human rights field. Lawyer, barrister, specialist in non-discrimination law. Her professional experience includes work for European Parliament and over 14 years of work in Commissioner for Human Rights Office in Poland, a.o. as a director of the Equal Treatment Team.
Jakub Majmurek
Film scholar, columnist, writer. Majmurek's focus is film criticism, but he also writes on literature and visual arts. Graduate of film studies in Krakow and the Jagiellonian University's Faculty of International and Political Studies, he also studied at the School of Social Sciences affiliated with the Institute of Philosophy and Sociology of the Polish Academy of Sciences. His articles appear in "Tygodnik Powszechny", "Gazeta Wyborcza", "Oko.press", "Aspen Review", and other publications. Majmurek edited and co-authored numerous books on film; his latest book (written with Łukasz Ronduda) is titled "Kino-sztuka. Zwrot kinematograficzny w polskiej sztuce współczesnej" ["Cine-art. The cinematic shift in contemporary Polish art"].
Jacek Petrycki
Cinematographer, director of documentary films, member of the Polish Association of Cinematographers (PSC), as of 2019, as vice-president. Member of the Polish Film Academy.
Canon Best Cinematography Award Competition Jury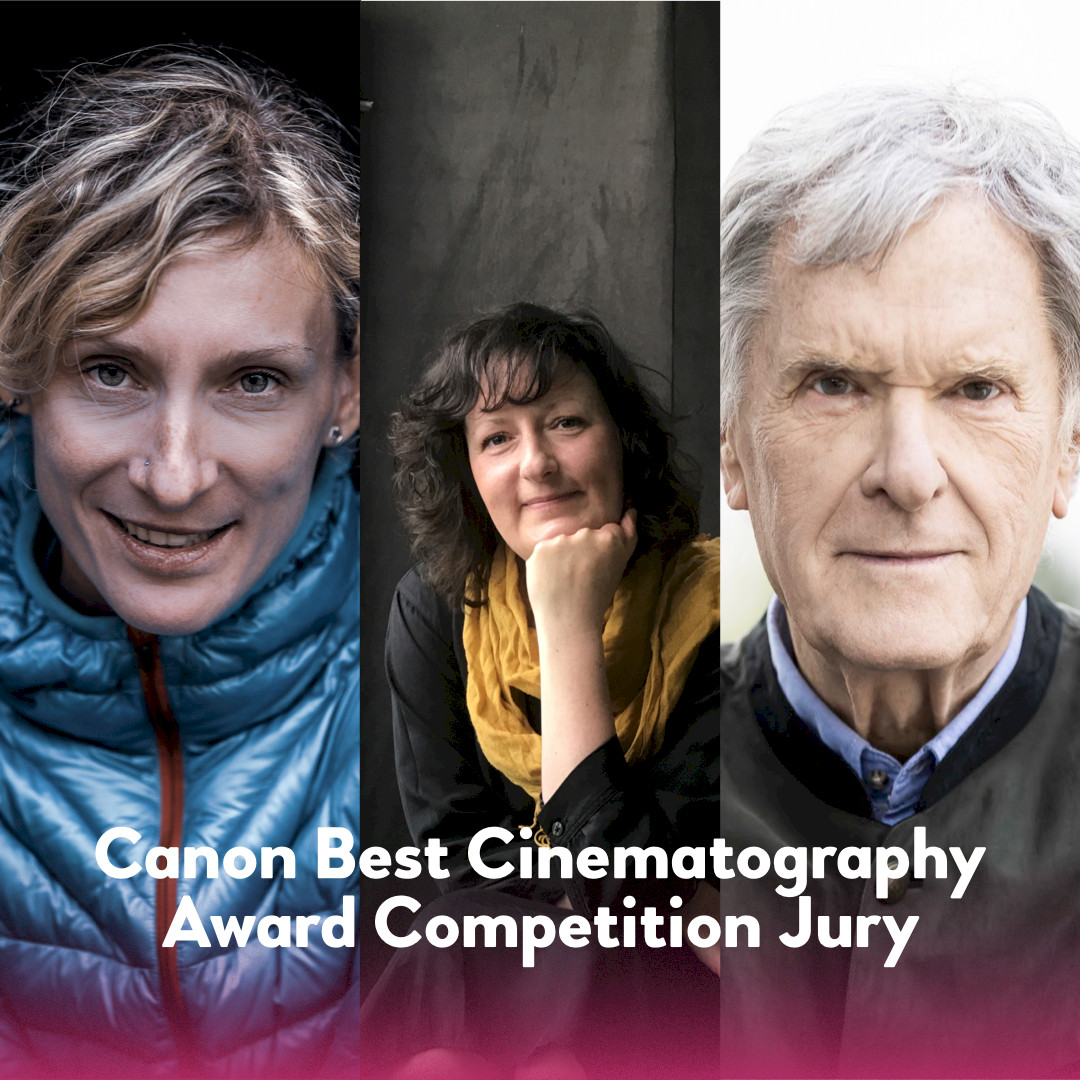 Eliza Kubarska
A graduate of the Academy of Fine Arts and Wajda Film School in Warsaw. Author of internationally awarded documentaries. What happened on Pam Island aka "Mountain Love Story", set in Greenland, Walking Under Water filmed on the seas and under the water around Borneo, winner of the Jury Prize at Hot Docs. «K2. Touching the Sky" (for HBO) - one of the most awarded Polish mountain films in the world, a story of children of alpinist who died on K2; The Wall of Shadows, a story of extreme Himalayan expedition told from the point of view of Nepalese Sherpas, premiered at Hot Docs 2020 (main competition) and the Polish premiere at Millennium Docs Against Gravity (main competition). Winner of 30 international awards including: American Cinematographer.
Monika Szewczyk-Wittek
She is a photo editor and curator, author of numerous interviews with photographers. Initiator of projects promoting photography. Co-author of the "We Are All Photographers" project. Head of the archiving and digitization project concerning the collection of TR Warszawa. Co-curator of the exhibition Family album: Multiple Gazes and Pawel Pierscinski archive project. She teaches photo edition and ethics of photography at the University of Warsaw. Scholarship holder of the Ministry of Culture and National Heritage and the Pilecki Institute Branch in Berlin. Her first book The only ones. Untold stories of Polish Female Photographers was published in 2021.
Piotr Jaxa
Cinematographer and photographer graduated from the Polish National Film School in Lodz and has worked as Director of Photography on a range of fictional and documentary films worldwide (his work has been shown at festivals such as Cannes, Mannheim, Krakow, Los Angeles and Berlin). Acknowledging his contributions to this field, he was awarded the Lohn-Ammannsegg Prize in 2009 for exquisite camera work and was invited to join the Swiss Film Academy. After 36 years of living in Switzerland, today Piotr Jaxa lives and works in Poland.
Chopin's Nose Award Competition Jury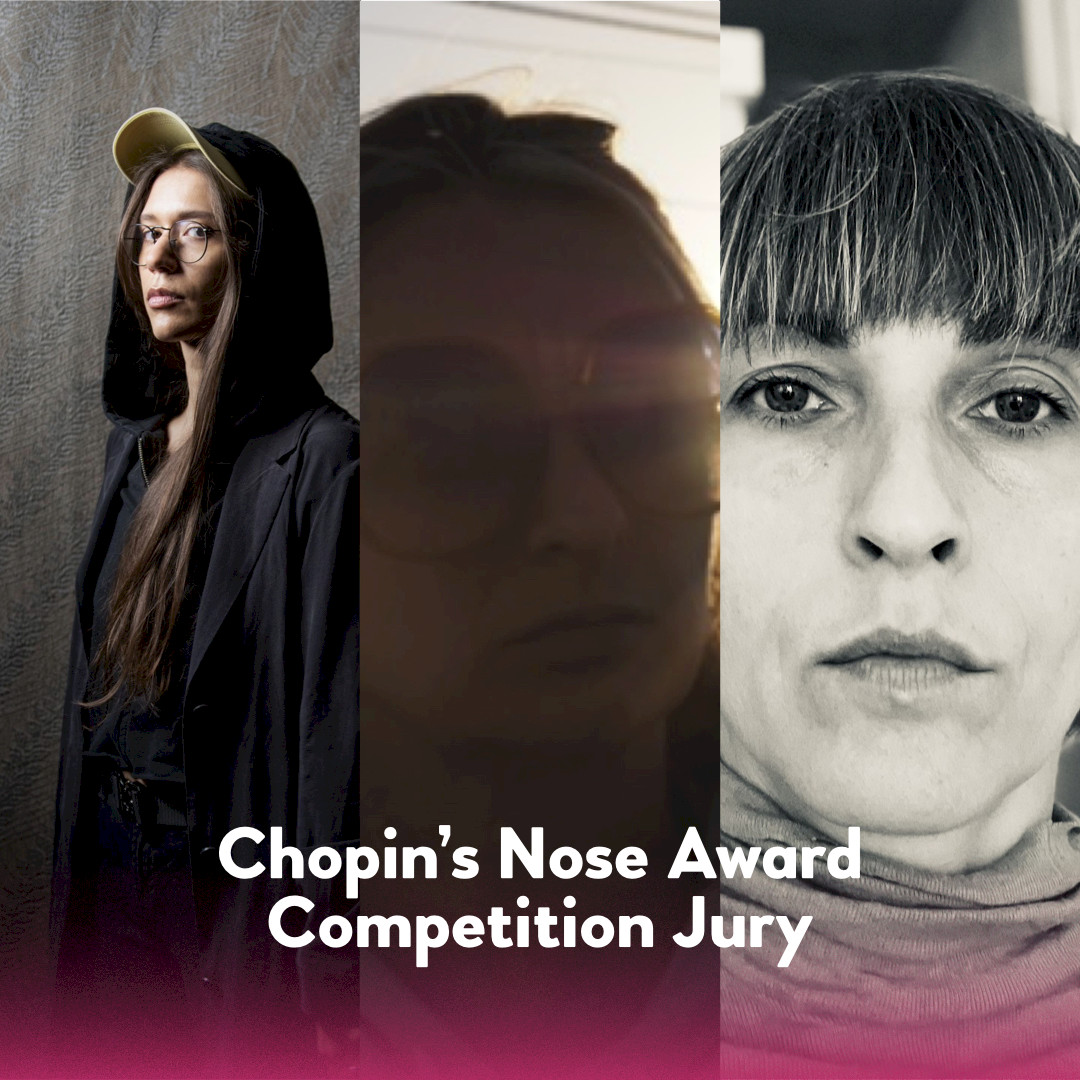 Teoniki Rożynek
Born in 1991, she is a composer of contemporary, theatrical and film music with a special emphasis on electronic sound design. Plays with faults and the listeners' perception. She performs live - now with a computer, in the past - playing the violin. A graduate of the Władysław Żeleński State Music School in Kraków (violin class) and of composition at the Fryderyk Chopin University of Music in Warsaw. Her works have been performed as part of Warsaw Autumn, as well as at the Musica Electronica Nova festival in Wrocław, Sacrum Profanum in Krakow, Kravín Rural Arts / Hranice u Malče or Bendigo International Festival of Exploratory Music in Australia, and at concerts in Cologne, Ostrava and other cities. A very important thread in Rożynek's work is film and theatre productions. She cooperates with such artists as Jagoda Szelc (she created the music for the film Tower. A Bright Day) and Katarzyna Kozyra.
Monika Strzępka
Born in 1976 in Tuchów, she is a theatre director and author of many stage hits, which at the same time become an important voice in social discussions. Together with playwright Paweł Demirski, she forms the most popular couple in Polish theatre. She studied at the Faculty of Drama Direction at the Theatre Academy in Warsaw. She debuted in 2004 in Teatr Polski in Bydgoszcz, where she staged Anna Bednarska's text 'With One's Face Against the Wall'. She later staged, among others, Werner Schwab's 'Die Präsidentinnen' (Polish Stage in Czech Cieszyn) and Paweł Demirski's 'Dziady ekshumacja' based on Adam Mickiewicz's "Dziady" (Polish Theatre in Wrocław). Together with Demirski she also prepared, among others, 'Long Live the War!!!' (Teatr Dramatyczny in Wrocław), 'In the Name of Jacob S.' (Teatr Dramatyczny in Warsaw), 'Courtney Love' (Teatr Polski in Wrocław), 'Warsaw Battle 1920' (National Old Theatre in Krakow), 'The Undivine Comedy: I'M GONNA TELL GOD EVERYTHING!'(Stary Theatre in Kraków).
Magda Lipska
She is a curator and art theorist currently working at the Museum of Modern Art in Warsaw where she curated and co-curated exhibitions such as "Who Will Write the History of Tears? Artists on Women's Rights" (2021), "Niepodległe. Women and the National Discourse" (2018) "Danwen Xing. A Personal Diary" (2017) and "Least the Two Seas Meet" (2015) with Tarek Abou el Fetouh as well as film and public programmes. She contributed to numerous publications e.g: "Points of Convergence. Alternative views on Performance", "Historie filmu awangardowego. Od dadaizmu do postinternetu" and "Pawlenski". Together with Monika Talarczyk she recently edited "Hope Is of a Different Color. From the Global South to the film School" published by the Museum of Modern Art in Warsaw.
Jury in the competition for The Lower Silesia Grand Prix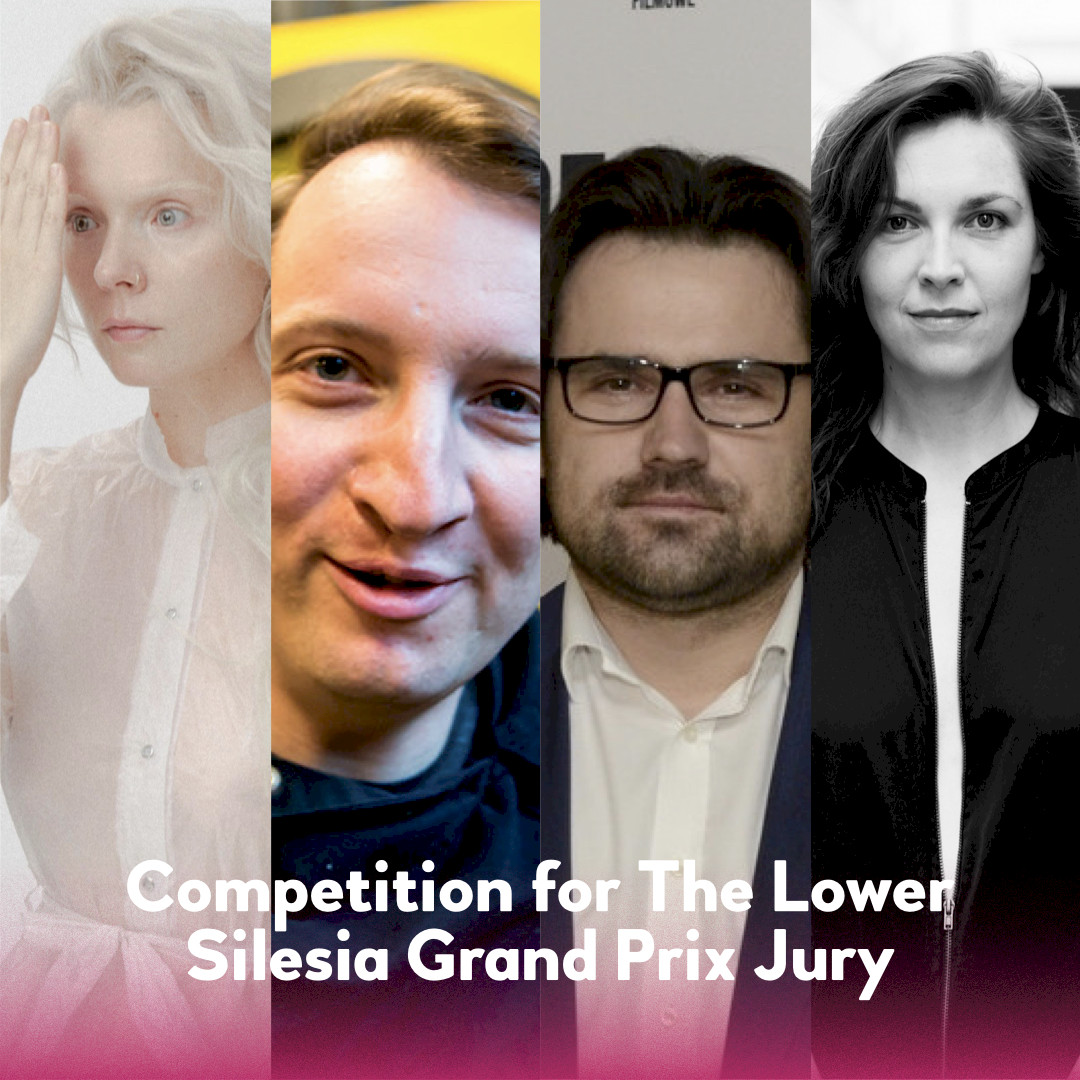 Magda Pasierska - singer, music producer, cultural studies scholar, vocal teacher and activist. She has played hundreds of concerts in Poland and Europe, performing in front of such artists as Bobby McFerrin, Leszek Możdżer and Beastie Boys. Known for her performances with the vocal group Me Myself and I, she also co-founded the production trio Herbata and collaborated with groups such as Bipolar Bears and Mr Transponder. Since 2018, she has been dynamically developing her solo career under the stage name Mapa. In 2017 she released a mini-album entitled EP1 and last year her first long play, I Call You.
Jarosław Perduta - director of the Lower Silesian Film Centre in Wrocław, a manager associated with public institutions. He specialises in communication and social dialogue. A former journalist and television producer. An activist at NGOs involved in the implementation of cultural, social and educational projects of local and international dimensions, co-creator and coordinator of social campaigns. He completed several international internships (in Birmingham, Dortmund and Dresden).
Jan Pelczar - journalist, head of the RAM Radio. He collaborates with Przekrój. The author of the book Lecę. Piloci mi to powiedzieli (Wydawnictwo Czarne). A graduate of the Polish School of Reportage at the Reportage Institute. He has been nominated for the Grand Press Award for his story published in Duży Format. As a film journalist and the author of "Strefa Kina" (Cinema Zone), he hosts official film premieres, discussions with filmmakers and festival galas. He has conducted hundreds of interviews with prominent figures from the world of art, politics and sport.
Martyna Majewska - born in Wałbrzych, a graduate in cultural studies at the University of Wrocław and in theatre directing at the National Academy of Theatre Arts in Wrocław. She has studied film directing at the K. Kieślowski Radio and Television Faculty, the University of Silesia in Katowice. She has directed more than twenty theatrical productions, performative readings and concerts throughout Poland. Her film directorial debut was a short film titled Maria is dead ("Maria nie żyje"), produced by Studio Munka. She co-founded the art tank Perfoteka, experiments with visual arts in the madonny.com project and enjoys directing short film forms: music videos, commercials and video art. She supports interdisciplinarity.
Jury in the competition for The Mayor of Gdynia Award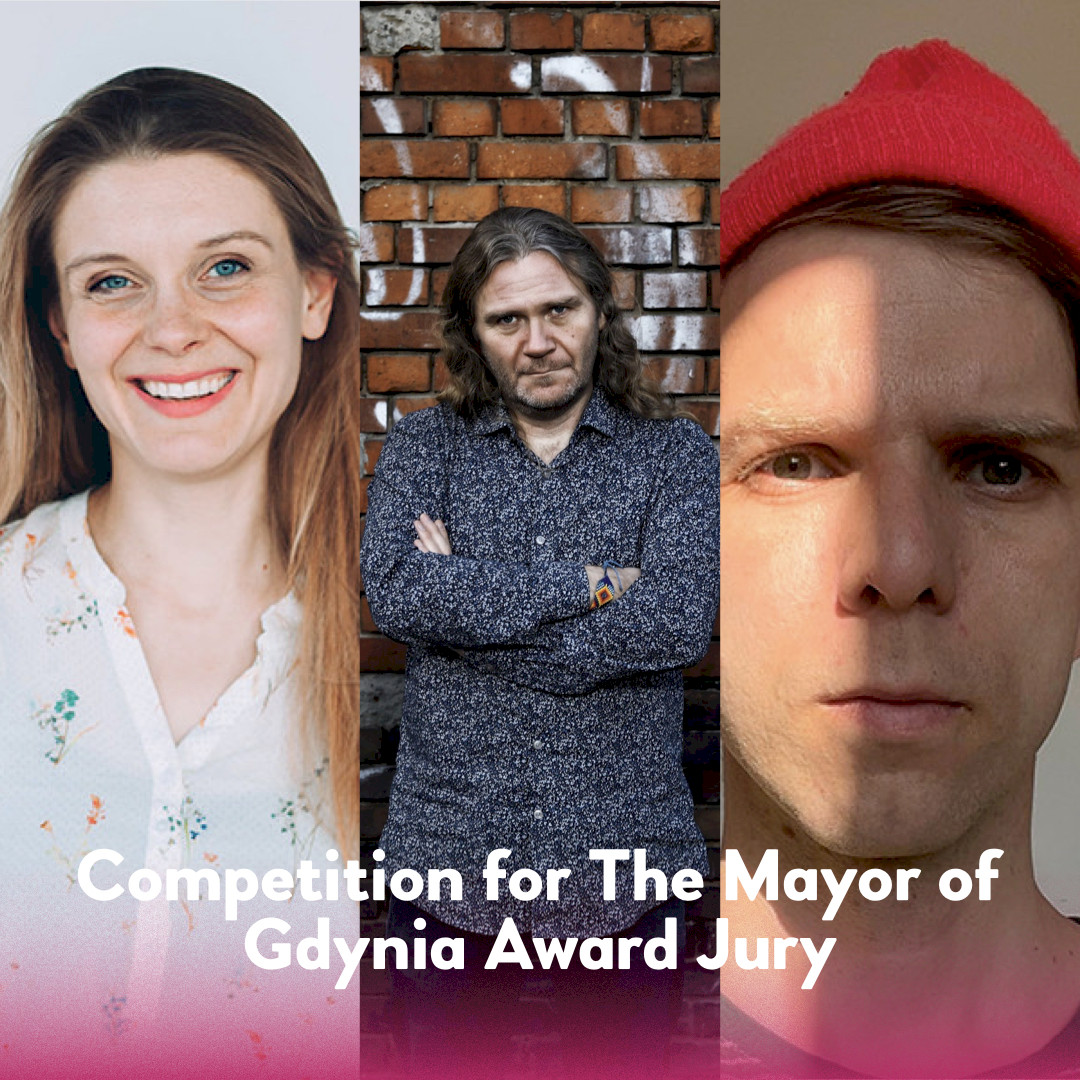 Honorata Martin – she creates paintings, installations, performances and videos. Her art often involves transgressing the limits of her own body and social taboos. She is the winner of, among others, the Deutsche Bank Views Award and the Splendor Gedanensis Award for outstanding achievements in the field of art. She has been nominated for the Polityka Passport Award.
Maciej Cuske – documentary filmmaker whose films have been shown and awarded at Polish and international festivals. His last film, The Whale from Lorino, won the Smakjam Award for Best Production in the Polish Competition at the 17th Millennium Docs Against Gravity FF, the Bronze and the Silver Hobby-Horse and the Silver Horn at the KFF in Cracow and the Polish Film Academy Eagle Award 2021. Maciej Cuske serves as a Polish Film Institute expert and is a member of the Polish Film Academy. In 2020, he was nominated for the Polityka Passport Award. He conducts film workshops in Poland and abroad. He is a lecturer at the Gdynia Film School, among others.
Maciej Salamon – graphic artist, musician, illustrator. He studied at the Academy of Fine Arts in Gdańsk, where he currently teaches at the Faculty of Sculpture and Intermedia. He is the vocalist and guitarist with the duo Tombstones. Creator of music videos and animations. He has been awarded numerous prizes for his work. He runs Gablotka Gallery which has held twenty-nine exhibitions presenting works by artists connected with Pomerania.
Jury in the competition for The City of Poznań Freedom Award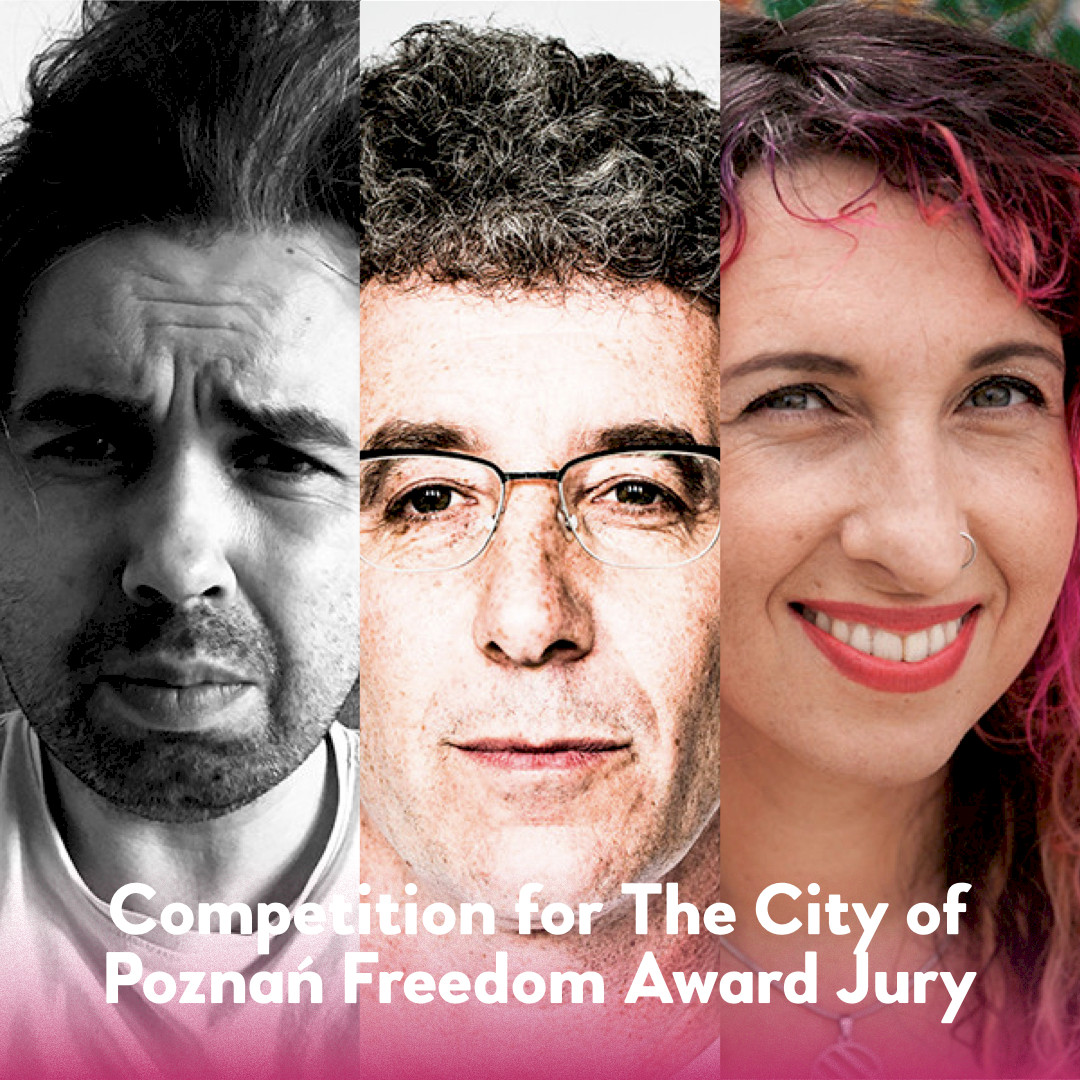 Max Skorwider - graphic and poster designer. He also creates comics and press illustrations, regularly collaborating with the Polityka weekly, Kultura Liberalna and the Meakultura Foundation. He is a professor at the Magdalena Abakanowicz University of the Arts in Poznań, where he teaches, among others, a course in Comics and Graphic Novels at the IV Studio of Graphic Arts - Lithography. He has been awarded at numerous competitions and graphic design, poster and illustration exhibitions in Poland and abroad. He is also the author of the artwork for children's and teens' books To o czym dorośli ci nie mówią.
Paweł Łoziński - Polish director and documentary producer, author of more than 20 documentaries awarded at international festivals. He makes emotionally-charged documentaries telling personal stories in a very intimate way. He is also a screenwriter, cinematographer and producer of many of his films.
Sylwia Chutnik - Ph.D. in humanities and a graduate of cultural studies and gender studies at the University of Warsaw. She is also a writer, journalist, social activist and reading advocate. A columnist for Polityka, Pani, Wysokie Obcasy, Gazeta Stołeczna and numerous online outlets. She publishes as a guest editor in the Polish and foreign press. Her academic articles have been included in more than 20 publications. She has received several literary and social awards.
Jury in competition for Bydgoszcz ART.DOC Award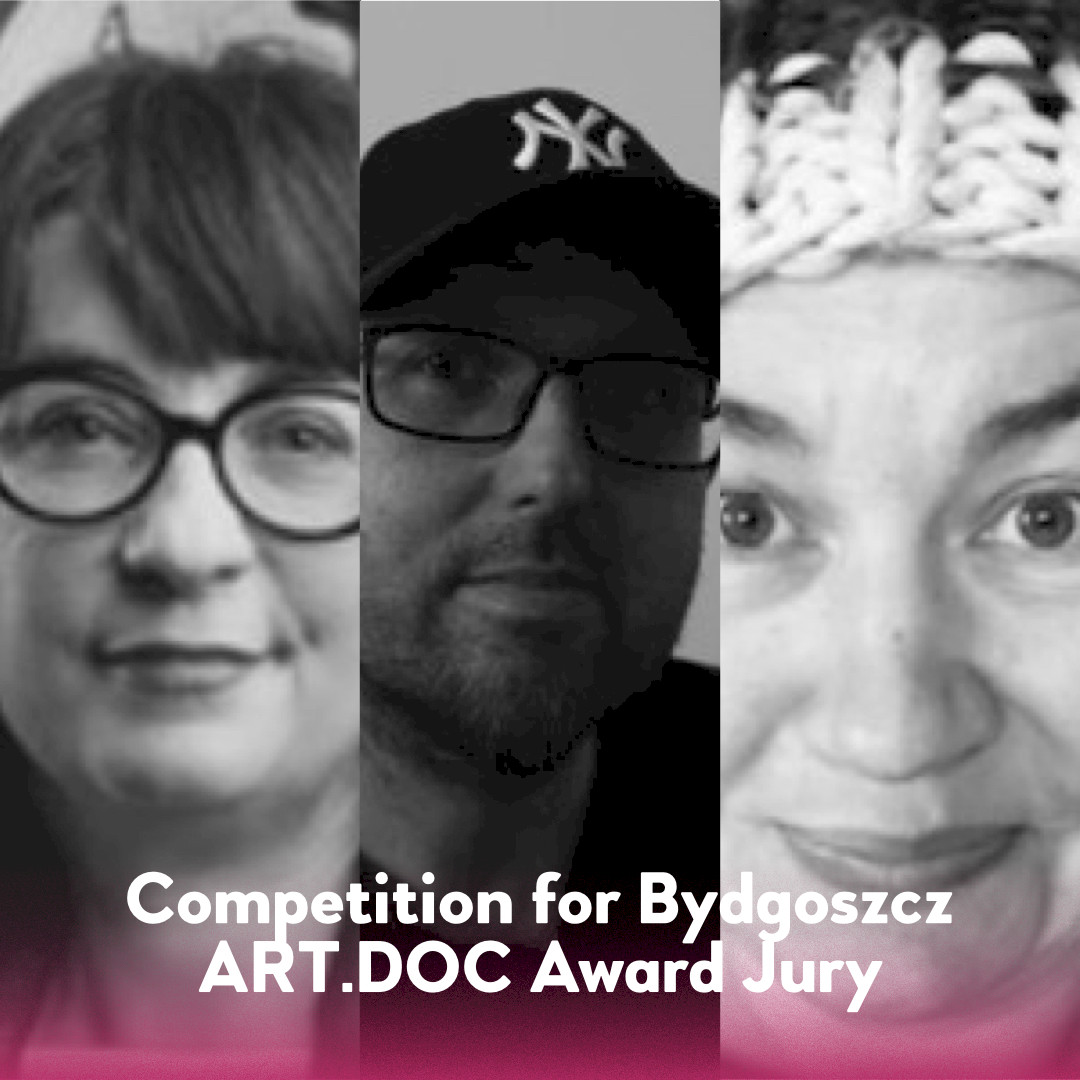 Ewa Czerska - defense attorney actively involved in self-government activities since 2003. She currently serves as the vice-dean of the District Bar Council in Bydgoszcz and as a member of the Commission for External Image and Legal Protection of the Supreme Bar Council. A former member of the Commission for Human Rights of the Supreme Bar Council. Professionally, she focuses on cooperation with cultural institutions and educational activities at an art school. She actively supports and participates in civic initiatives related to young people's legal education.
Krzysztof Nowicki - documentary filmmaker, the director of the Przeźrocza Film Festival in Bydgoszcz, and the founder of the film groups KolorOFFon and Stealtheapple. His latest film, Leocadia's Dream, had its international premiere at the Hot Docs Film Festival in Toronto, its Polish premiere in the competition at the Energa Camerimage Festival and was awarded at the Barcelona Planet Film Festival. His previous short documentaries (Basen, Homestay, 21) were presented and awarded at festivals in Poland and abroad (Dwa Brzegi, dokumentART, Żubroffka). He is currently working on a feature-length documentary film Chór with a premiere date set for 2023.
Elżebieta Jabłońska - visual artist whose work offers an amiably ironic commentary on the social roles assigned to the individual and the functioning mechanisms of art institutions, reflecting on social involvement in the field of art. Her works include long-term activities based on cooperation with cultural institutions and the public, initiatives engaging various communities and curatorial projects. Elżbieta Jabłońska's art is often described as feminist or post-feminist. She creates mainly installations, photographs, performances and space-time activities. She treats the work of art as a relational object whose sense and meaning may be subject to change and negotiation. Currently, she focuses on artistic gestures that encourage action, building a momentary community, creating a field of mutual communication and understanding, thus eschewing the creation of the material and sometimes her authorship. President of the W788 Foundation, lecturer at the Faculty of Fine Arts at the Mikołaj Kopernik University in Toruń.
Millennium Docs Against Gravity will take place on May 13-22 in eight cities: Warsaw, Wrocław, Gdynia, Poznań, Katowice, Lublin, Bydgoszcz and for the first time in Łódź! The online part at mdag.pl will last from May 24 to June 5. The titular sponsor of the festival is Bank Millennium (www.bankmillennium.pl).